Wouldn't it be great to have a process that helps us make effective decisions every time?
"There were many choices to make; if we were to go over that flight again, and I know I've done this many times, it would literally take me about ten minutes to describe what happened in the first seconds. Because of all the things that I didn't have time to consciously think about but were in the back of my mind, that were immediately accessible to me, so that helped me frame this decision, frame these choices…"

– Captain Chesley "Sully" Sullenberger – Commonwealth Club (November 2009)
If you have ever been in a meeting where people seem to discuss different issues, you have seen what happens when the decision-making environment has not been established.
It is essential for everyone to understand the topic before preparing to decide. This includes agreeing on an objective, making sure the right issue is being discussed, and agreeing on a process to move the decision forward.
You also must address vital interpersonal considerations at the very beginning. Have you included all the stakeholders? And do the people involved in the decision agree to respect one another and engage in an open and honest discussion? After all, if only the strongest opinions are heard, you risk not considering some of the best solutions available.
It is essential to establish individual decision-making styles to support personal and organisational effectiveness critically. The six steps process to effective decision making, outlined below, assists individuals to recognize and re-orientate their process, style, and approach to decision-making situations and facilitates informed outcomes to complex operational situations.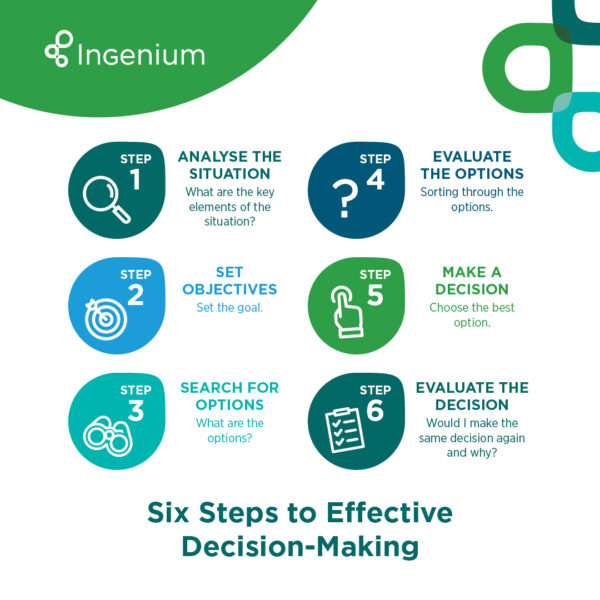 To become an effective decision-maker the following recommendations are summarised for you to adopt:
Identify your decision-making style. What are your strengths? Identify possible areas for opportunities.
Be aware of the decision-making styles of the people around you. This will help you gather support for your way of thinking.
Establish a positive decision-making environment. If an issue is presented, ensure everyone understands it, and include all relevant stakeholders.
In evaluating alternatives in the decision-making process, consider the three key factors: risk, consequences, and feasibility.
Generate as many potential solutions as possible. Do not merely adopt the first solution you encounter.
Strive to achieve a balance in your decision-making style.
The six steps model can be applied to all of your business-critical and life-important decisions. Adopting this process will help you make better quality decisions and mitigate against both conscious and unconscious biases and engage with others in the process.