Last week all eyes were on the RDS in Dublin for the return of the in-person Pendulum Summit.
The experiential gathering celebrates the best of business, leadership, culture, inspiration, and learning. Speakers included international experts Steve Wozniak, Alastair Campbell, Sharon Lechter, Ingenium's very own Director of Consulting Operations and Human Performance Marie Gleeson, and many more.
Marie shared her experience as a former female captain in the Irish Naval Service and as one of the Navy's first female officers. How she had to adjust to being a woman in leadership in a predominantly male industry, the importance of teamwork, the criticality of structured decision – making and the loneliness of command. Speaking about the live event Marie said "it was the ideal opportunity to return to "in-person" events – high energy, high impact, and high octane. The buzz in the RDS was palpable as teams and individuals came together in person for the first time in two years to be inspired by the speakers, the entertainers, and the others in the arena".
Her highly personal, engaging, and sometimes emotive speech, showed the importance of honesty and communication in her leadership style.  As a seasoned leader and executive coach, she sees the reality of the challenges of leadership and the loneliness of command every day. Her advice to leaders was clear – your team and the trust you build with your team is an essential component to leading successfully.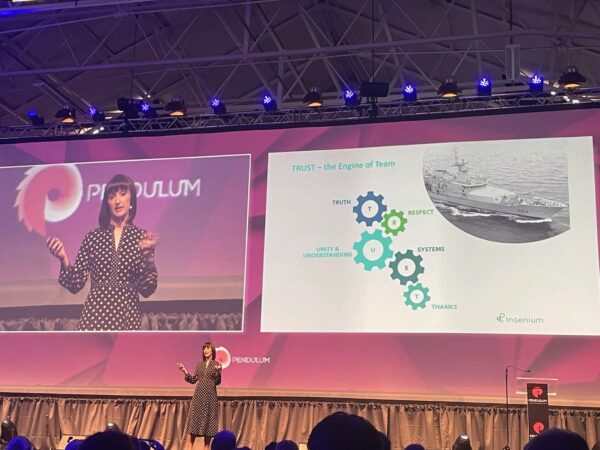 "It was a fantastic event, and I was delighted and humbled to share my own personal leadership journey. The reaction from those there on the day and from those who watched online has been uplifting and I am humbled that it resonated so strongly. As we emerge from the pandemic there is immense pressure on leaders to re-engage their teams and to re-build team spirit. My advice is to go back to the basics- get to know one another again by being curious and asking simple questions. Leadership team re-alignment is crucial to success and to gaining unity and understanding as we move forward in these uncertain times".
To hear more from Marie on leadership, team spirit, decision – making and resilience contact Ingenium to find out about how she can work with you and your organisation to help you realise your personal and organisational goals.
General Enquiries
Send us your general enquiries here.